Many schools, troops and other places around the world have carried out norovirus antigen-related tests. It only takes 15 minutes to quickly detect whether they are infected with norovirus.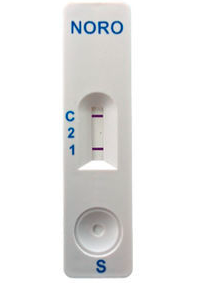 What exactly is norovirus?
  Norovirus is a single-stranded RNA virus that can cause inflammation in the gut. This virus generally does not require blood tests and is usually detected in stool.
  Several ways of sample collection for Easysweet Norovirus rapid test
  The first is the first choice of fecal specimens, taking 1-2 mL or 1-2 g of feces and placing them in a clean, sterile, dry airtight container for testing.
  The incubation period of norovirus is 24 to 48 hours, generally no more than 96 hours. It has strong resistance to various physical and chemical factors, acid resistance, heat resistance, and cannot be inactivated at 60°C for 30 minutes.
  Therefore, if the Easysweet Norovirus rapid test is positive, you should send it to a doctor for diagnosis and treatment in time. After the diagnosis, avoid spreading it to other people within 3 days from the time of illness to the complete disappearance of symptoms, and avoid close contact with children and the elderly with weakened immunity while at home. If Easysweet Norovirus rapid test is needed, please feel free to contact us, we will provide high-quality product with competitive price.
  The pictures involved in the article are from the Internet. If there is any infringement, please contact us.