Clinicians should consider dengue fever in patients with clinically appropriate disease who live in or have recently traveled to an endemic area within 2 weeks of symptom onset.
  Patients typically present with acute fever, headache, body aches, and sometimes a rash that spreads from the trunk.
  All patients with clinically suspected dengue should be managed appropriately to monitor for shock and reduce the risk of complications from increased vascular permeability and plasma leakage and organ damage without waiting for receipt of diagnostic test results.
  In the United States, since dengue is a national notifiable disease, all suspected cases should be reported to the local health department.
  diagnostic test
  Most state health departments and many commercial laboratories conduct the Easysweet Dengue IgG/IgM Rapid Test.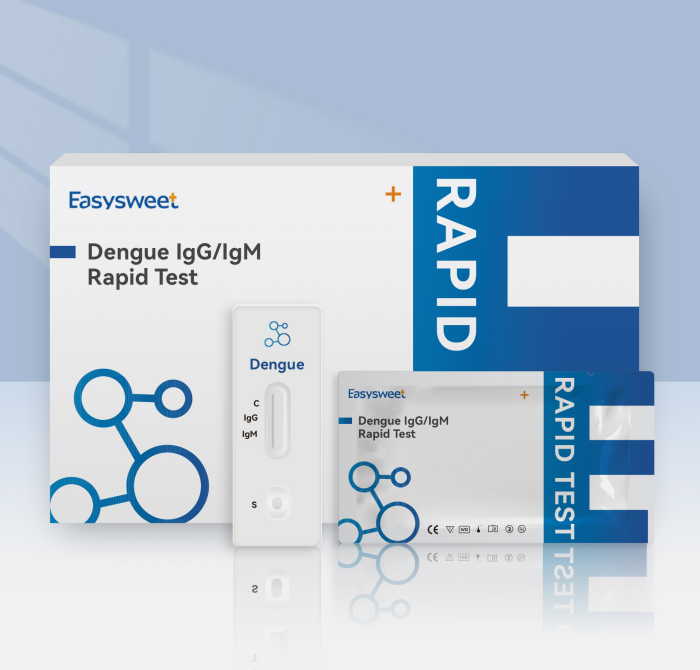 Nucleic Acid Amplification Test (NAAT)
  NAAT is the method of choice for laboratory diagnosis in patients with suspected dengue virus disease.
  NAAT should be performed on serum samples collected 7 days or less after symptom onset.
  Laboratory confirmation can be performed from a single acute-phase serum specimen obtained early in the illness (≤7 days after febrile disease) by detection of viral genome sequence using rRT-PCR or immunoassay for dengue nonstructural protein 1 (NS1) antigen.
  The presence of virus in a single diagnostic specimen by rRT-PCR or NS1 antigen was considered laboratory confirmation of dengue in patients with compatible clinical and travel histories.
  Easysweet Dengue IgG/IgM Rapid Test
  IgM antibody testing can identify other infections and is an important diagnostic tool. Interpretation of the results is complicated, however, by cross-reactivity with other flaviviruses, such as Zika virus, and determining the exact timing of infection can be difficult.
  In the late stage of the disease (≥4 days after fever), Easysweet Dengue IgG/IgM Rapid Test can be used. For patients presenting during the first week of fever, diagnostic testing should include dengue virus (rRT-PCR or NS1) and IgM testing.
  IgM testing is most useful in patients who have been febrile for more than 1 week, although NS1 has been reported to remain positive for up to 12 days post-febrile.
  IgM in a single serum sample is strongly suggestive of recent infection with dengue virus and should be used if infection occurs where other cross-reactive flaviviruses such as Zika, West Nile, yellow fever, and Japanese encephalitis viruses are present Presumptive dengue confirmation is not a risk.
  cross reactive flavivirus
  Molecular and serological diagnostic testing for dengue and other flaviviruses should be performed if infection may have occurred where other potentially cross-reactive flaviviruses circulate.
  Individuals infected with or vaccinated against other flaviviruses (such as yellow fever or Japanese encephalitis) may develop cross-reactive flavivirus antibodies, resulting in false positive serological dengue diagnostic test results.
  Easysweet Dengue IgG/IgM Rapid Test
  Detection of IgG in a single serum sample by ELISA is not useful for diagnostic testing because it remains detectable lifelong after dengue virus infection.
  Availability of Easysweet Dengue IgG/IgM Rapid Test
  The Easysweet Dengue IgG/IgM Rapid Test is available from several commercial reference diagnostic laboratories, state and local public health laboratories, and the CDC.
  If there is any infringement, please contact us.