The Easysweet H1N1 Rapid Test detects swine flu, usually a mild illness, caused by the H1N1 2009 strain of influenza virus. Diagnosis can be made based on the signs and symptoms of the disease. Swine flu presents in most people as a common flu infection with similar symptoms, so it may be confused with other viral illnesses.
Characteristics of swine flu
According to the Centers for Disease Control and Prevention (CDC) guidelines, swine flu is diagnosed with the following characteristics:
Acute fever and respiratory infection within 7 days of close contact with a confirmed H1N1 influenza A virus infection
Acute fever and respiratory infection within 7 days of travel to a community (domestic or foreign) with one or more confirmed cases of influenza A (H1N1) virus infection
Acute fever and respiratory infection in a person living in a community with at least 1 confirmed case of influenza A(H1N1)
To confirm the diagnosis, a specific Easysweet H1N1 Rapid Test is required to detect the strain causing the disease.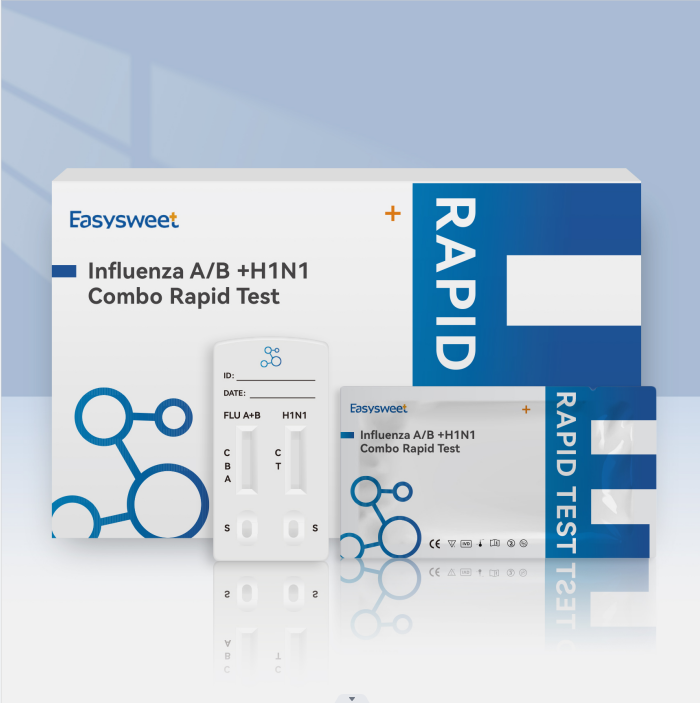 routine blood tests
Viral infections usually do not cause many changes in the routine blood picture.
Routine blood tests using hemoglobin, complete blood count (including white blood cell, red blood cell, and platelet count) can rule out a bacterial infection causing the flu-like features.
Easysweet H1N1 Rapid Test
To detect swine flu, a nose or throat swab is taken. Within 15 minutes, the laboratory may determine whether influenza A or B is present.
Samples of infected material are taken from the patient's throat or nose within the first 4 to 5 days of illness. This is when the disease is most contagious, when infected people are most likely to spread the virus. However, children may shed the virus for 10 days or more. It may take several days for more details on the exact strain to be detected and reported.
If widespread infection is present, testing may not be necessary. Treatment is based on symptoms only.
In the wake of the pandemic, most state health departments are now equipped to test for nonhuman influenza strains. However, if a variant flu virus is suspected, it will be sent to the CDC for further testing.
Easysweet Influenza A/B +H1N1 Combo Rapid Test can identify and differentiate influenza A and B viruses, further classify influenza A viruses by subtype, and detect highly contagious avian influenza or avian influenza ( H5N1) virus infection.
Some of the content of the article comes from the Internet, if there is infringement, please contact us.