The Easysweet Syphilis Rapid Test is a single-use rapid test strip for the qualitative detection of Treponema pallidum antibodies in whole blood, serum and plasma samples. It is intended for use in healthcare settings to help diagnose and manage patients associated with syphilis infection, as well as to screen blood donors or blood products.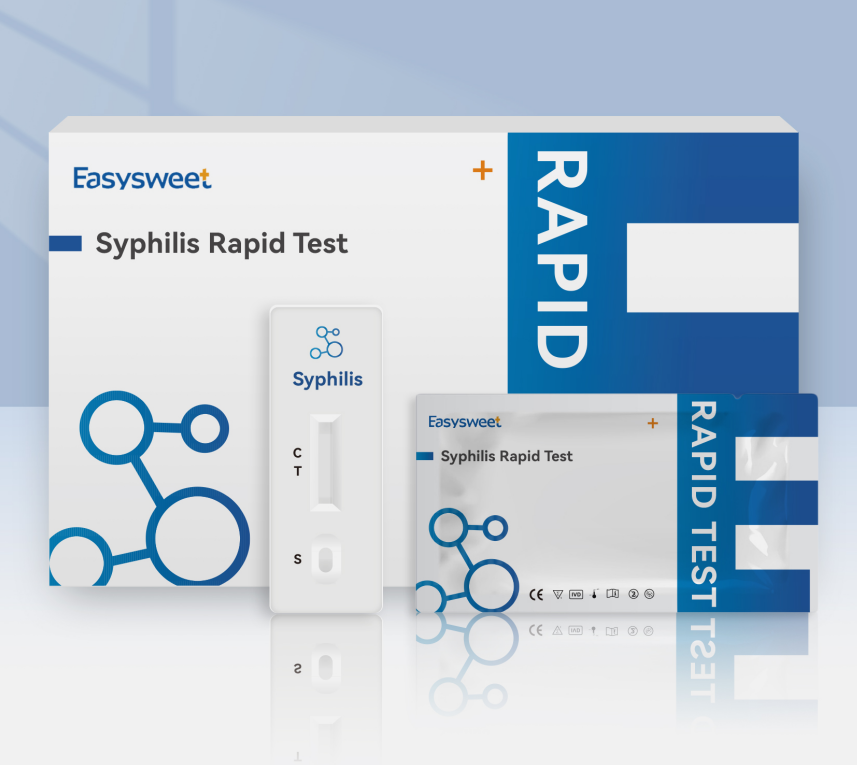 Syphilis is a disease caused by a spirochete bacterium called Treponema pallidum (TP). If left untreated, these microbes can move throughout the body and can cause damage to many organs, and if left untreated, syphilis can become a life-threatening disease. People infected with syphilis experience different symptoms during the three stages of the disease. In the early stage, chancre appears at the inoculation site, syphilis can be further divided into primary, secondary and early latent syphilis; late syphilis includes late latent syphilis and various forms of tertiary syphilis. The serological response to syphilis involves the production of antibodies against a variety of antigens, including nonspecific and specific anti-TP antibodies. The first detectable response to infection is the production of specific anti-Treponema IgM, which can be detected 4 to 7 days after the appearance of chancroid until the end of the second week of infection; anti-Treponema IgG appears approximately 4 weeks later. By the time symptoms appear, IgG and IgM are detectable in most patients.
  Principle of Easysweet Syphilis Rapid Test
  This syphilis anti-TP rapid test uses a cassette chromatographic lateral flow test device. Colloidal gold-conjugated recombinant antigens (Au-Ag) corresponding to TP antigens (P47, P45, P17, P15) were dried and immobilized on the ends of nitrocellulose membrane strips. The TP antigen is bound to the test area (T) and the rabbit anti-TP antibody is bound to the control area (C). When the sample is added, it migrates by capillary diffusion to rehydrate the gold conjugate. If a TP antibody (anti-TP) is present in the sample, it will bind to the gold-conjugated antigen to form particles. These particles will continue to migrate along the band until they are captured by the TP antigen in the test area (T), producing a visible red line.
  Salient features of rapid syphilis test:
  Reliable and inexpensive, convenient and easy-to-understand instructions, clear preparation procedures, simple and safe specimen collection instructions, comprehensive packaging of required materials and components, fast and accurate test results within 5minutes.
  Easysweet also offers other infectious disease rapid tests and infectious disease detection kits. For more information on rapid test kits contact our customer service representatives who will assist you as best as possible.